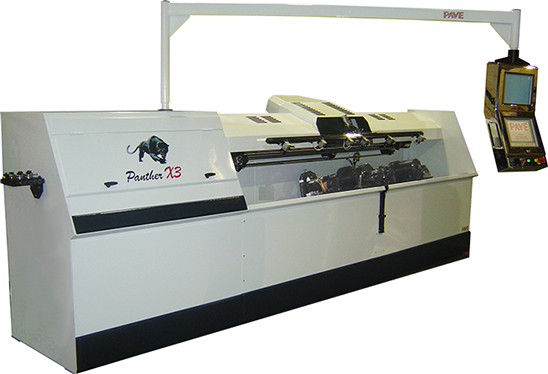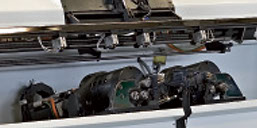 The Panther X3 encapsulates all of PAVE's 40 years experience in both wire straightening and bending technology, combined with the all new software (animated icons, advanced graphical display techniques and CAD coordinate input) probably makes it the simplest programmable machine ever produced.
Specification
13 Programmable Axis.
Fully Programmable three dimensional shapes.
Capacity from

1.5mm

to

7mm

diameter and up to 3 meters long.
10 programmable bending speeds, up to 0.05 seconds for 180 degrees.
Repeatability on bend angles +/- 0.05 degrees.
Variable carriage speeds up to 80 meters a minute, with positional tolerance of 0.01mm from datum.
Clamp unit allows 360 degrees rotation of wire with 10 programmable speeds up to 0.02 seconds for 90 degrees.
Simple touch-screen programming with three-dimensional graphics.
Animated icons.
CAD co-ordinate input to generate bend program automatically.
Twist free wire straightening system.
Off-line programming.
Sequential component forming.
Fed from coil.
Three bending shafts per bending head.
Up to 18 different radii when using hard tooling and unlimited differing radii when using repeat bending and generate bending.
Control console mounted on movable pendant and incorporates twin screens, one for programming and one for graphics.

Modem/Live Video Link

.

Please contact us here PAVE with any questions you may have - we are happy to help!